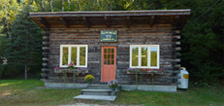 About Goss Lumber
Goss Lumber has been owned and operated by three generations of the Goss family.

We have a long tradition of working with local landowners and loggers who provide us with quality logs typically harvested within 20 miles of our Henniker mill.

Our customers—contractors, builders, timber framers and homeowners—are primarily local, though some come from further afield, drawn by our reputation for consistently high quality rough cut and milled lumber, affordably priced.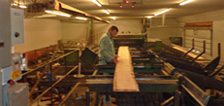 What We Do
At Goss Lumber, we offer native lumber, typically harvested within 20 miles, and sawn, dried and planed on site. We specialize in high quality pine, both premium and select grades. We also offer two lower grades of pine, rough-cut hemlock and kiln-dried spruce.

Other products include custom timbers up to 22 feet long, wide pine flooring up to 20 inches wide, shiplap, v-match and many other patterns.
 
Providing consistently high quality lumber is the cornerstone of our business. Our grade is substantially better than those you'll find in the big box retailers.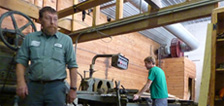 Buy Local
Buying local does more than just lower your carbon footprint. Buying local is an investment in your local community. When you buy local, you support local jobs; these workers then put more money into the local economy.

When you purchase from a local sawmill, you're also supporting traditional, land-based businesses—landowners, loggers and the mill—that promote responsible stewardship of the forestland, which is an important renewable natural resource.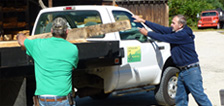 Contact/Find Us
We're a traditional business, so the best way to reach us is by calling 603-428-7314 or by stopping in. We're at 841 Flanders Road, just off Route 114/Weare Road in Henniker, New Hampshire.
Hours
Monday-Friday 7am-5pm
Saturday 8am-12pm
Sunday Closed